45 Best Thanksgiving Gifts To Express Your Appreciation
October 16, 2023
2023-11-08 9:29
45 Best Thanksgiving Gifts To Express Your Appreciation
45 Best Thanksgiving Gifts To Express Your Appreciation
Table of Contents
Thanksgiving—a time of year where we gather around the table with our loved ones, feasting on delectable dishes and sharing tales of gratitude. How do we best articulate our thankfulness, especially when words sometimes fall short? Enter the realm of heartfelt tokens: Thanksgiving gift ideas that speak volumes. Whether you're searching for gifts for Thanksgiving to offer your gracious host or seeking unique Thanksgiving gifts for friends who've made a significant mark in your life, the right present can communicate the depth of your feelings more than any gesture or phrase.
In our modern age, where every commodity is just a click away, selecting that perfect gift requires thought and sincerity. It's not about the price tag or grandiosity, but the sentiment, the story, and the connection it represents. As we approach this special time of year, the pressure to find the ideal token of gratitude can become overwhelming. Fear not, dear reader, for we have carefully curated a list to alleviate your gift-giving anxieties.
With every recommendation, they delve deeply into the spirit of Thanksgiving, guaranteeing that the selected gift transcends mere objects, transforming into a cherished memory and a symbol of the moments shared together. So, take a moment to unwind, and allow them to lead you on a heartfelt journey of gratitude and warmth. They'll reveal the finest gifts that will eloquently convey the depth of your care during this Thanksgiving season.
Thanksgiving Gifts For Home Decor
Thanksgiving is not just a time for feasting and family reunions; it's also a season to adorn one's abode with warmth, festivity, and charm. For those seeking to infuse the spirit of gratitude into every nook and cranny of their dwelling, choosing the right Thanksgiving gifts for home decor becomes paramount. These gifts, selected with care and thought, not only beautify living spaces but also evoke feelings of togetherness, love, and cherished moments spent with loved ones.
Scented Candle
Ambient lighting options such as scented candles make exquisite Thanksgiving gifts for those who appreciate a sensory-rich atmosphere. These aromatic wonders have the power to transform any living space, imbuing it with warmth, serenity, and olfactory delight. There's a wide array of choices, from scented candles reminiscent of autumn nights in Vermont, sultry candles that evoke the spices of a Southern Thanksgiving dinner, to calming candles that mirror a serene evening in Santa Monica. Even those unfamiliar with these sensations can quickly become aficionados, thanks to the powerful pull of their transcendent fragrances.
Fall-Themed Table Runner
Home décor items, particularly fall-themed table runners, serve as exceptional Thanksgiving gifts for individuals who take pride in setting a festive ambiance. There's an assortment available, mirroring the golden hues of fall in New England, the rustic charm of an autumn morning in Montana, or the vibrant tapestry of a Texan November. Such pieces can make even a simple table setting radiate with holiday spirit and charm, making any host or homeowner feel like a seasoned interior designer.
Leaf String Lights
Illuminating decorations like leaf string lights offer a magical touch, making them ideal Thanksgiving gifts for those who adore whimsical displays. From choices that replicate the soft glimmer of leaves under a Tuscan sun, the vibrant shimmer of a Canadian autumn, to the delicate twinkle reminiscent of a Parisian fall evening, there's something to captivate every preference. Even someone new to such décor can effortlessly craft an enchanting space, drawing admiration and warmth from all who witness it.
Pumpkin Candle Holder
Unique lighting accessories such as pumpkin candle holders stand out as splendid Thanksgiving gifts for those with a penchant for seasonally thematic pieces. The market boasts of designs inspired by the traditional carvings of Salem, the sophisticated artistry of a Venetian craftsman, or the quaint charm of a Midwestern festival. Such items can seamlessly make even an ordinary room glow with the essence of the season, leaving a lasting impression of elegance and nostalgia.
Amber Vase
Artistic décor like amber vases are timeless Thanksgiving gifts for individuals who value elegance blended with functionality. There's a collection reflecting the opulence of a Victorian drawing room, the contemporary sleekness of a New York loft, and the traditional aesthetics of a Moroccan lounge. Even those unfamiliar with the nuances of décor can effortlessly elevate any space's grandeur with these statement pieces, making each bouquet or dried arrangement a centerpiece.
Autumn-Scented Potpourri
Aromatic offerings, especially autumn-scented potpourri, present themselves as perfect Thanksgiving gifts for those who revel in the season's fragrances. Various blends capture the essence of a crisp morning in the Swiss Alps, the spicy undertones of a Mexican autumn fiesta, or the fruity notes of a Mediterranean harvest. Such selections can transform any home into a sensorial haven, ensuring every corner whispers tales of fall's abundant beauty.
Felt Fall Leaf Garland
Nature-inspired decors like the Felt Fall Leaf Garland stand out as quintessential Thanksgiving gifts for those who adore seasonal home embellishments. There's an assortment of such garlands, from those handcrafted in Seattle to those tailored in Atlanta, making every living room or hallway come alive with the hues of autumn. For those who cherish the rustling of leaves and the deep, warm colors of fall, this garland is more than just a decoration—it's a representation of a season filled with gratitude and togetherness. With this gift, even the most minimalistic home can feel enriched with the spirit of Thanksgiving.
Thanksgiving Window Clings
Innovative home decor options like Thanksgiving Window Clings make for fantastic gifts for those who enjoy festive window treatments. Whether it's the detailed designs from artisans in Boston or the intricate patterns from creators in Dallas, these clings transform ordinary windows into festive showpieces. For those who eagerly anticipate the Thanksgiving season, dressing their windows with symbols of harvest and thankfulness can uplift spirits. With these clings, any home can shimmer with Thanksgiving vibes, making every glance outside a reminder of the season's essence.
Ceramic Turkey Centerpiece
Classic table decorations like the Ceramic Turkey Centerpiece make cherished Thanksgiving gifts for those with a penchant for traditional festivities. With various designs ranging from artists in Phoenix to those in Minneapolis, every table can boast of a centerpiece that's both elegant and evocative. For many, this turkey isn't just ceramic—it's a symbol of gatherings, shared meals, and stories exchanged. Gifting this ensures that the Thanksgiving spirit remains at the heart of every meal.
Fall Thanksgiving Pillow
Cozy home accessories, especially the Fall Thanksgiving Pillow, emerge as treasured gifts for those who find comfort in seasonal decor. Be it designs inspired by Vermont's fall foliage or patterns echoing the Texan autumn spirit, these pillows infuse homes with warmth and charm. For the recipients, each cushion isn't just a resting place for heads, but for hearts filled with gratitude. With this gift, every sofa or bed becomes a snug reminder of the season's embrace.
Thanksgving Gifts For Kitchen & Cooking
As the heart of every home, the kitchen plays a pivotal role during the Thanksgiving festivities. It's where timeless recipes are brought to life, families bond over culinary creations, and gratitude fills the air with the aroma of sumptuous dishes. To elevate this experience, gifting something tailored to the culinary arts is a gesture both thoughtful and functional. Thanksgiving gifts, especially those designed for the kitchen and cooking, can transform ordinary preparations into cherished moments. They're not just tools, but tokens of love and appreciation for those who pour their heart into every dish they craft.
Gravy Boat
Gift the joy of perfect presentation with this stylish Gravy Boat. Every Thanksgiving table boasts a parade of dishes, but what better way to elevate the scene than with a vessel that pays homage to the occasion? This Gravy Boat is not merely about serving sauce—it embodies the essence of lavish feasts and fond memories. Ideal for the meticulous chef or the decor-enthusiast, this piece turns an ordinary gravy distribution into a grand gesture. Just like an unforgettable performance, guests will anticipate its entrance, creating another cherished Thanksgiving memory. Perfect for both contemporary and traditional tables, it's more than just a dish—it's a Thanksgiving statement.
Floral Pie Plate
Add a dash of artistry to the dessert display with this Floral Pie Plate. When it comes to Thanksgiving, the final sweet course is an event in itself. This plate, adorned with delicate floral patterns, becomes the stage for that sumptuous pie. The intricate designs, reminiscent of autumn blooms, encapsulate the warmth and coziness of the season. Great for the home baker or anyone who appreciates the fusion of function and art, this pie plate ensures that the dessert not only tastes delightful but looks equally enchanting. Celebrate the finale of your feast with a plate that truly captures the Thanksgiving spirit.
Gourmet Tea Set
Delight in the subtle flavors of the season with this Gourmet Tea Set. Thanksgiving is about indulgence, and what better way to end a meal than with a curated blend of warm, aromatic teas? This set brings together a symphony of flavors, each reminiscent of the holiday's charm. Whether it's the cinnamon hint or the apple undertones, these teas echo the joyous melodies of autumn. Ideal for the tea connoisseur or anyone looking to explore rich, seasonal blends, this set introduces a new tradition—savoring the very essence of Thanksgiving in a cup.
Turkey Roasting Pan
Elevate the main event with this Turkey Roasting Pan. Every Thanksgiving revolves around the perfectly roasted bird, and this pan ensures it takes center stage. Expertly crafted for even heat distribution, it guarantees the turkey emerges golden, juicy, and irresistibly crispy. Beyond functionality, its robust design speaks of traditions, of years of family gatherings, and moments of anticipation as the oven door opens. A must-have for the family chef or the Thanksgiving host, this pan doesn't just cook—it creates stories, ensuring every turkey becomes the talk of the town.
Dish Towels
Infuse a touch of holiday spirit into everyday tasks with these Dish Towels. While they might seem mundane, these towels, adorned with Thanksgiving motifs, transform daily chores into festive moments. Made from premium fabrics, they're as efficient as they are decorative. Great for the home that loves to celebrate in both big and small ways, these towels offer a daily reminder of the upcoming joyous occasion. They're not just for drying dishes—they're pieces of art, draping the kitchen in the warmth of the Thanksgiving season.
Harvest Basket
Celebrate the bounty of the season with this Harvest Basket. Thanksgiving is a nod to nature's generosity, and this basket is the embodiment of that sentiment. Crafted with care, it's perfect for collecting autumnal produce or simply as a rustic centerpiece. Its weave tells a story of traditions, of years gone by, and of the simple joys of harvest. Ideal for the gardener, the home cook, or anyone who cherishes the Earth's gifts, this basket is a tribute to the very heart of Thanksgiving—a time of gratitude and abundance.
Cookbook with Autumn Recipes
Whisk your family and friends into a culinary wonderland with a Cookbook featuring Autumn Recipes. This is not just any cookbook; it's a homage to the fiery colors and cozy feels of the fall season. Every page turned is an invitation to explore dishes enriched with flavors like nutmeg, cinnamon, and roasted chestnuts. From savory soups to delectable desserts, this book is a testament to autumn's bounty. More than just recipes, it tells a tale—of golden leaves, crisp air, and the joy of gathering around a hearty meal. Ideal for both the novice cook and seasoned chef, this cookbook is bound to become a treasured part of any Thanksgiving kitchen.
Seasonal Spice Set
Elevate your Thanksgiving meal preparations with a Seasonal Spice Set. Nestled within a beautifully designed box are jars filled with the scents and flavors synonymous with autumn. Think warm cloves, earthy sage, and vibrant saffron. This collection isn't just for seasoning; it's an experience—a journey through the rich tapestry of fall. From lending a touch of magic to a simple dish to transforming an entire recipe, these spices are a testament to the power of nature's bounty. Both practical and poetic, this spice set is an ode to all things Thanksgiving.
Pumpkin-Shaped Soup Tureens
Introduce an element of whimsy and warmth to your dining table with Pumpkin-Shaped Soup Tureens. Evoking the charm of a rustic harvest festival, these tureens aren't just vessels for soups; they are conversation starters. Crafted with care and painted in shades that mirror the vibrant palette of fall, they seamlessly blend functionality with aesthetics. Fill them with a creamy butternut squash soup or a hearty stew, and watch your guests marvel at both the flavor and the presentation. A delightful fusion of form and function, these tureens are sure to be the centerpiece of any Thanksgiving feast.
Serving Spoons and Forks
Let each dish be served with elegance and precision with a set of Serving Spoons and Forks. Beyond their utilitarian function, these utensils are designed to add a touch of sophistication to your Thanksgiving spread. With intricate detailing and a lustrous finish, they capture the essence of grand feasts and family gatherings. Whether dishing out creamy mashed potatoes or tangy cranberry sauce, these serving tools not only ensure a perfect portion but also bring a sense of occasion to every meal. Meticulously crafted and beautifully balanced, they promise to elevate the dining experience.
Turkey Lacers
Embrace tradition and finesse with Turkey Lacers. These simple yet indispensable tools play a pivotal role in ensuring your Thanksgiving turkey is roasted to perfection. Designed to seal in the flavors and juices, they add a touch of vintage charm to your cooking process. But beyond their culinary significance, they stand as a symbol of the time-honored traditions that make this holiday so special. Easy to use and immensely practical, these lacers guarantee that your turkey takes center stage, both in terms of taste and presentation.
Wine Rack
Celebrate the joy of togetherness and fine wine with an elegant Wine Rack. Designed to house your favorite bottles, this rack isn't just about storage; it's a statement piece. Whether placed in the dining room or the kitchen, its intricate design and sturdy build promise both form and function. As you toast to gratitude and love this Thanksgiving, let this rack serve as a reminder of the finer things in life—good wine, great company, and moments that become cherished memories.
Cake Stand
Give your decadent desserts the pedestal they deserve with a stunning Cake Stand. This isn't merely a platform for cakes; it's a celebration of the sweet moments life offers. Crafted with precision and designed to captivate, this stand transforms every dessert—be it a classic pumpkin pie or a luxurious chocolate torte—into a showstopper. As families come together to share laughter, stories, and slices of dessert, let this cake stand be a testament to the joy of sharing and the sweetness of Thanksgiving.
Food & Drink For Thanksgiving Day
At the heart of this celebration lies not just gratitude but also a sumptuous array of food and drink that embodies the spirit of the season. While traditional turkey and cranberry sauce hold their timeless appeal, many are also on the hunt for innovative culinary delights to grace their festive tables. Indeed, the quest for the perfect Thanksgiving gifts, especially those that tantalize the taste buds, is one that many embark upon, hoping to leave an indelible mark on this special occasion.
Chocolate Box
Indulge in a sweet rendezvous this Thanksgiving Day with an exquisite Chocolate Box. Curated with precision, each piece within this box tells a story of rich cocoa beans, expert craftsmanship, and a journey through palates of various flavor profiles. Like an artist's palette, a variety of fillings ranging from velvety pralines to tangy fruit infusions, engage the senses, ensuring a delightful treat with every bite. Elevating the festive table, this Chocolate Box not only serves as a delectable post-feast dessert but also as an elegant gesture, perfect for showcasing the essence of Thanksgiving gratitude.
Artisanal Honey
Unearth nature's liquid gold with a jar of Artisanal Honey this Thanksgiving. Sourced from dedicated beekeepers who value sustainability, each drop carries the aromatic essence of seasonal flowers, blending sweet nectar with rich undertones. Perfect for drizzling over warm biscuits or blending into a soothing tea, this honey goes beyond taste. Its luxurious texture and vibrant hue turn everyday dishes into gourmet delights. More than just a sweetener, this Artisanal Honey symbolizes a labor of love, making it an ideal Thanksgiving gift that resonates with natural purity.
Seasonal Nuts
Revel in nature's crunchy treasures with a pouch of Seasonal Nuts. Handpicked and roasted to perfection, each nut variety—from robust walnuts to buttery pecans—offers a unique taste profile. When combined, they present an orchestra of flavors, ideal for nibbling during Thanksgiving chats or adding a crunchy element to recipes. Representing nature's bounty and the spirit of harvest, this pouch does more than satiate; it celebrates the very ethos of Thanksgiving—gratitude for Earth's generous offerings.
Cookie Box
Embark on a journey through crumbly delights with a Cookie Box this Thanksgiving Day. Every cookie, crafted with finesse, offers a blend of traditional and innovative flavors. From classic chocolate chip to exotic lavender shortbread, the range is an ode to culinary creativity. Ideal for sharing over tea or gifting to a dear one, this Cookie Box transcends the usual, turning mere treats into tokens of affection.
Apple Cider
Sip on tradition with a bottle of Apple Cider this festive season. Crafted from freshly pressed apples, its bubbly effervescence and tangy notes evoke memories of autumn orchards. Perfect when served chilled or as the base of a warm spice-infused drink, this cider seamlessly transitions from day feasts to cozy nightcaps. More than a beverage, Apple Cider embodies the warmth and togetherness of Thanksgiving, making every sip a cherished memory.
Baked Goods
Dive into a world of oven-fresh marvels with an assortment of Baked Goods. Ranging from flaky croissants to moist banana bread, every item promises a melt-in-mouth experience. Crafted with love and quality ingredients, these goods serve as the perfect accompaniment to morning coffees or as dessert centerpieces. Beyond taste, they stand as a testament to the joys of baking and sharing, resonating deeply with the Thanksgiving spirit of gratitude and community.
Specialty Oils & Vinegars
Dive into the world of culinary delights with this curated collection of specialty oils and vinegars. Each bottle encapsulates flavors from across the globe, turning ordinary dishes into gourmet masterpieces. From the robust aroma of truffle-infused oil to the tangy zest of aged balsamic vinegar, this set promises to be the talk of the Thanksgiving table. Perfect for drizzling over salads or adding depth to roasted vegetables, these premium selections not only tantalize the taste buds but also elevate the cooking experience. Imagine family members sharing their favorite recipes and discussing the nuances of these gourmet ingredients. It's more than just a gift; it's an invitation to a culinary journey, waiting to be explored during the Thanksgiving feast.
Soda Syrups
Unleash a fizzy and flavorful adventure with these artisanal soda syrups. Moving beyond the conventional soda flavors, these syrups, when paired with sparkling water, bring forth refreshing beverages that both surprise and delight. Flavors ranging from tart berry medleys to spicy ginger infusions ensure there's a bubbly treat for every palate. Think of the effervescent conversations around the Thanksgiving table as family and friends mix, match, and muse over their custom-made drinks. These soda syrups are not merely about quenching thirst; they present a delightful experience, perfect for toasting to gratitude and cherished moments.
Dry Fruit Basket
Embrace the essence of autumnal bounty with this meticulously arranged dry fruit basket. Laden with the finest selections of sun-kissed raisins, plump apricots, crunchy almonds, and more, this gift is both a visual and gastronomic treat. As conversations flow during Thanksgiving dinner, this basket becomes a centerpiece of shared tales and tastes. Each bite into these dehydrated delights evokes memories, traditions, and a shared appreciation for nature's gifts. This isn't just a basket; it's a woven narrative of traditions, health, and gratitude.
Specialty Coffee Beans
Awaken the senses with this exquisite selection of specialty coffee beans. Handpicked from the finest estates, each bean tells a tale of exotic lands, age-old traditions, and meticulous craftsmanship. When brewed, the room fills with aromatic tales of distant coffee plantations, making Thanksgiving morning even more special. It's not just about the caffeine kick, but the shared moments over a cup, the laughter, the stories, and the warmth that resonates with each sip. A perfect gift for the coffee aficionado in the family or anyone who cherishes a well-brewed conversation.
Artisanal Cheeses
Elevate the Thanksgiving cheeseboard with this assortment of artisanal cheeses. Each wheel and wedge is a testament to age-old cheesemaking traditions, rich textures, and layered flavors. From the creamy brie to the sharp blue, every cheese in this selection promises a palate adventure. As the knife slices through these dairy delights, it beckons shared experiences, tales of foreign lands, and a universal love for gourmet experiences. It's not just cheese; it's a curated experience of taste, tradition, and togetherness.
Personalized & DIY Gifts For Thanksgiving Day
As the leaves change and the scent of pumpkin spice fills the air, Thanksgiving reminds everyone of the importance of gratitude, connection, and personalized touches. Personalized & DIY Thanksgiving gifts are the epitome of thoughtful gestures. In a world saturated with generic offerings, choosing a customized or handmade present stands out, showing the recipient the depth of your appreciation and love. Such Thanksgiving gifts, imbued with personal touch and care, not only express gratitude but also create lasting memories, becoming cherished keepsakes for years to come.
Personalized Mug
Delight your loved ones with a touch of personal sentiment using this customized Thanksgiving mug. Crafted to perfection, each mug captures individual memories or inside jokes, ensuring every sip evokes warmth and gratitude. From cherished photos to tailored messages, there's a design for everyone. Whether it's a tribute to the family's best pie maker or a nod to someone's infamous cranberry sauce recipe, this mug goes beyond a beverage container—it becomes a daily reminder of treasured moments. A heartfelt gesture, this personalized mug is an ideal accompaniment to your loved one's morning coffee or evening tea this Thanksgiving.
Pumpkin Carving Kit
Introduce a splash of creativity and tradition with the Pumpkin Carving Kit—a gateway to memories waiting to be crafted. Beyond merely preparing a pumpkin for the porch, this kit offers an experience. Imagine loved ones gathering, choosing their designs, and bonding over the intricate patterns they carve. Each tool in the set is designed for precision, ensuring that the resulting jack-o-lantern is both a piece of art and a testament to a family's shared moments. It's not just about carving pumpkins; it's about carving memories.
Pumpkin Socks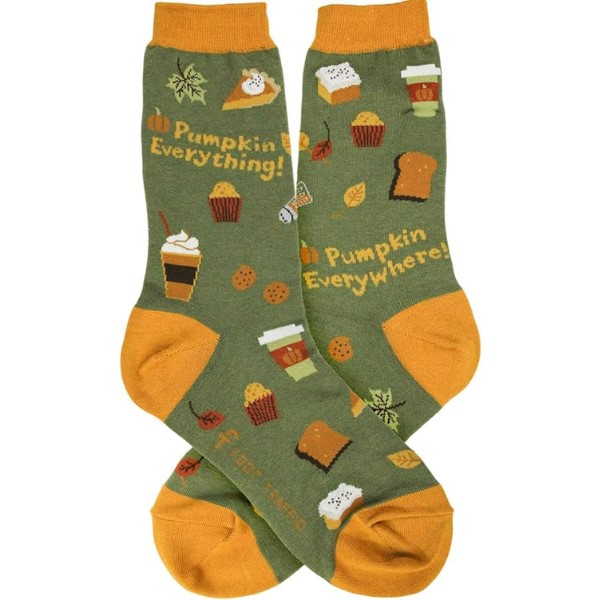 Add a touch of whimsy and warmth to the fall wardrobe with Pumpkin Socks. Much more than mere foot coverings, these socks are a festive nod to the season's favorite gourd. Envelop feet in coziness while also showcasing a playful spirit. As the leaves turn and the air chills, what better way to keep toes toasty and spirits high than slipping into these delightful, pumpkin-themed wonders? Ideal for lounging by the fireplace or strutting about in boots, they're a comfort staple with a festive twist.
Festive Napkin Rings
Enhance the Thanksgiving tablescape with Festive Napkin Rings—a blend of elegance and seasonal charm. More than mere table accessories, these napkin rings serve as the subtle, yet striking details that can transform any dinner setting into a memorable feast. Crafted with meticulous detail and embodying the warmth of the season, they beckon guests to their seats with a promise of culinary delights and cherished conversations. Each ring becomes a symbol of the care and thoughtfulness behind every Thanksgiving gathering.
Fall-Themed Coasters
Elevate the Thanksgiving table setting with these Fall-Themed Coasters. A delightful blend of aesthetic and function, these coasters don't just protect your surfaces from potential drink spills and heat. They artfully capture the very essence of the autumnal season. Whether it's images of falling leaves or pumpkin patches, each coaster tells a story. When guests lift their glasses, they'll be met with vibrant hues and intricate designs synonymous with the fall. Not only do they serve a practical purpose, but these coasters also become conversation starters, adding charm to the dining experience and setting the mood for the festivities ahead.
DIY Centerpiece Kit
Illuminate the Thanksgiving table with a touch of personal flair using the DIY Centerpiece Kit. Crafted for those with a penchant for unique decor, this kit offers an array of elements from rustic autumn leaves to elegant ribbons, allowing for a customized ensemble. It's more than just a decorative piece—it's a journey of creativity and bonding. As family members collaborate, selecting and arranging each component, the centerpiece becomes a symbol of collective effort and love. Perfect for fostering family connection, this kit ensures that every Thanksgiving dinner is graced with a centerpiece as unique as the memories being made.
Photo Calendar
Journey down memory lane and cherish each day with a personalized Photo Calendar. Meticulously designed for the upcoming year, each month offers a chance to showcase cherished moments, turning ordinary dates into celebrations of nostalgia. Perfect as a thoughtful Thanksgiving gift, recipients can recall fond memories with every flip of a page. From summer vacations to winter wonderlands, this calendar is more than just a date tracker—it's a visual diary. It's not just about marking days but about reliving them, making it a heartwarming gift that keeps on giving throughout the year.
Crocheted Items
Immerse your dear ones in the warmth of handcrafted love with Crocheted Items. These aren't just knitted patterns; they're intricately woven memories and love in every stitch. Ideal for cozying up during the chilly Thanksgiving evening, these crocheted gifts—be it blankets, scarves, or hats—meld function with sentimentality. Every loop and twist resonate with dedication and care, making them more than just accessories. They become cherished heirlooms, telling tales of dedication, patience, and the beauty of handcrafted wonders during Thanksgiving gatherings.
Handcrafted Wood Signs
Elevate any living space with the rustic charm of Handcrafted Wood Signs. Each piece, skillfully etched with words or imagery, tells a story—of home, love, or gratitude. Perfect for Thanksgiving, these signs serve as daily reminders of blessings and moments of togetherness. Beyond their decorative appeal, they resonate deeply with the essence of Thanksgiving, echoing sentiments of family, gratitude, and home. Beautifully designed and imbued with craftsmanship, these signs are not just decorative pieces; they're conversation starters, evoking memories and emotions every time they catch the eye.
Engraved Jewelry
Gift a timeless token of appreciation with Engraved Jewelry. Exquisite in design and meaningful in essence, each piece carries a personal touch, be it a date, name, or a heartfelt message. As a Thanksgiving gift, it serves as a wearable testament to cherished moments and shared bonds. Every glance at the shimmering metal, every touch of the intricate engraving, brings forth a rush of memories and emotions. Far more than mere adornments, these engraved pieces become cherished keepsakes, intertwining fashion with deep-rooted sentiments, making them the perfect memento for this season of gratitude.
Thanksgiving Ornament Kit
Engaging DIY projects such as the Thanksgiving Ornament Kit are ideal gifts for craft enthusiasts and families alike. With an array of kits hailing from places like San Francisco to Orlando, everyone from children to grandparents can embark on a creative journey. Crafting these ornaments becomes an exercise in both artistry and reflection, pondering each moment of gratitude as hands mold and decorate. These kits aren't just about making ornaments; they're about creating memories that hang around long after Thanksgiving.
Conclusion
In the spirit of Thanksgiving, expressing gratitude and appreciation goes beyond mere words—it's about meaningful gestures that touch the heart. As we conclude our exploration of the best gifts to convey your appreciation, we'd be remiss not to mention Sandjest. This brand epitomizes the essence of thoughtful gifting with their exquisite personalized offerings.
At Sandjest, the act of gift-giving transcends mere formality; it becomes an eloquent expression of profound emotions. In line with their vision, each hand-delivered gift from Sandjest weaves a tale of care, sentiment, and connection. As you ponder over the perfect Thanksgiving gift, consider turning to Sandjest for an experience that is not only remarkable but also imprints lasting memories. Celebrate gratitude with gifts that truly resonate.
FAQs
What Are Some Popular Thanksgiving Gift Ideas to Show Appreciation to Loved Ones?
There are numerous thoughtful Thanksgiving gift options to express appreciation, ranging from gourmet food baskets and personalized home decor to heartfelt greeting cards and festive candles. Our blog post features a curated list of 45 exceptional gifts to help you convey your gratitude in a meaningful way.
Are Personalized Gifts a Good Choice for Thanksgiving?
Yes, personalized gifts add a special touch to your Thanksgiving gesture. They show thoughtfulness and consideration, making the recipient feel truly appreciated. From custom engraved cutting boards to monogrammed towels, our list includes a variety of personalized gift options.
How can I choose the perfect Thanksgiving gift based on someone's preferences?
Consider the recipient's interests, hobbies, and preferences when selecting a Thanksgiving gift. Think about what they enjoy, whether it's cooking, gardening, reading, or relaxing. Our blog post includes a diverse selection of gifts, so you're likely to find something that matches the recipient's tastes.