Your Ultimate Gift Guide for Cyber Monday Sale Shopping
October 16, 2023
2023-11-08 9:28
Your Ultimate Gift Guide for Cyber Monday Sale Shopping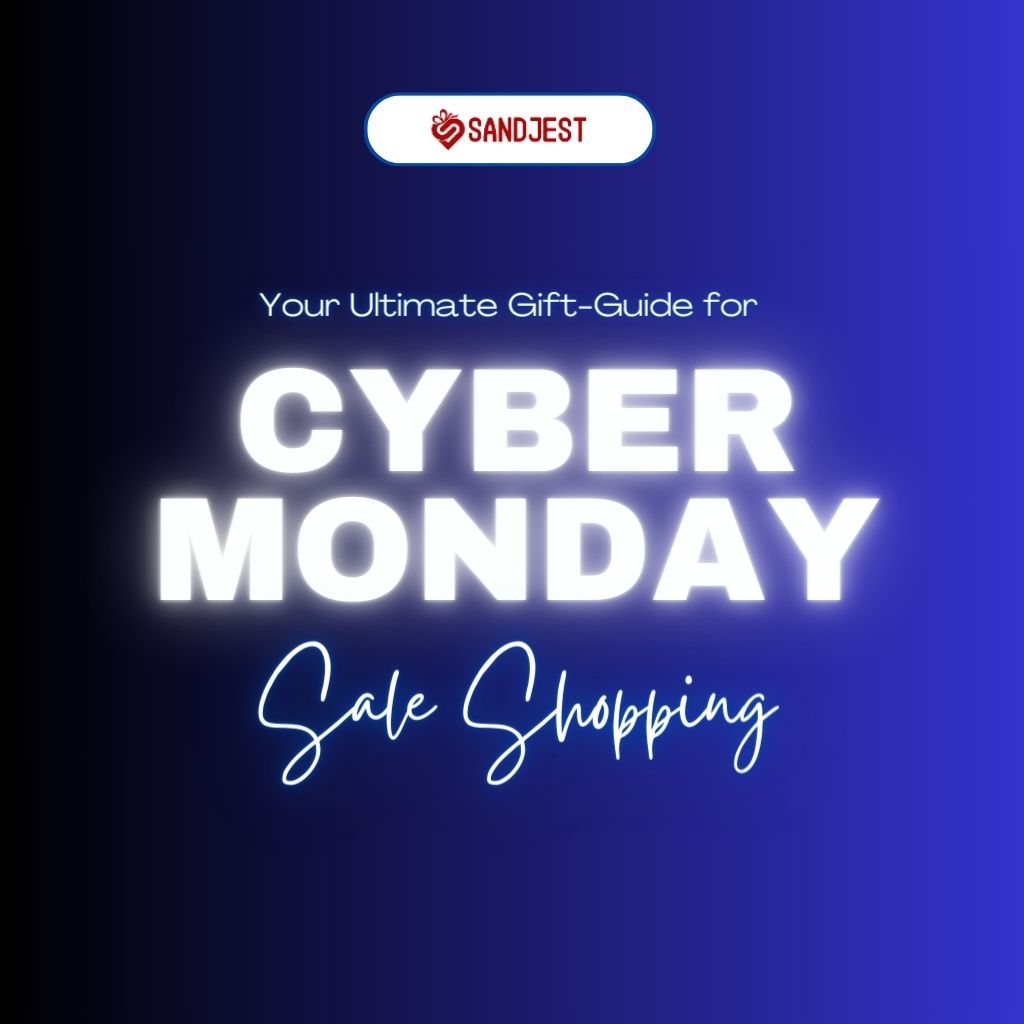 Your Ultimate Gift Guide for Cyber Monday Sale Shopping
Table of Contents
Welcome to the captivating realm of Cyber Monday Sales, a place where holiday shopping transcends into a delightful and cost-effective endeavor. With the Cyber Monday Gift Guide and an array of Cyber Monday Gift Ideas readily available, this shopping extravaganza invites you to explore a treasure trove of irresistible bargains that will undoubtedly compel you to click eagerly, populate your shopping cart, and disseminate the holiday cheer in a manner unparalleled before.
At the heart of this festive shopping spree lies the opportunity to personalize your Cyber Monday Gift Ideas for your beloved ones. The era of uninspiring, run-of-the-mill presents has passed; now, you have the opportunity to infuse your gifts with a genuine, heartfelt touch, thanks to the remarkable offerings accessible during Cyber Monday Sales.
The potential of Cyber Monday Sales extends beyond being a mere shopping spree; it has the capability to transform your gift-giving experience into an extraordinary journey, all the while remaining mindful of your budget. However, before embarking on this delightful expedition, allow us to introduce you to Sandjest, a brand that embodies the essence of personalized gifting. Sandjest envisions a world in which gift-giving transcends mere formality and evolves into a profound expression of emotions.
With an unwavering commitment to delivering exceptional personalized gifts, Sandjest ensures that each gift-giving experience is both significant and unforgettable. We invite you to join us on this joyous journey and embark on the art of giving together. Are you ready to immerse yourself in the realm of Cyber Monday Sales with Sandjest? Continue reading until the end of this article to discover an exclusive 50% discount coupon, and let this joyful adventure commence!
Create Lasting Memories with Personalized Posters
This Cyber Monday, one can explore the perfect gifts for everyone on their list and craft enduring memories through the charm of personalized posters. These tailored posters represent a heartfelt and distinctive means of conveying genuine care to one's cherished ones.
Picture the joy of presenting a beautifully crafted poster that showcases a treasured photograph, an inspirational quote, or a personalized message carefully crafted for the intended recipient. Such posters serve as a daily source of inspiration, a constant reminder of the unique connection shared. Be it a family portrait, a snapshot from a memorable journey, or an uplifting message, personalized posters infuse a distinctive, personal essence into any living space.
These presents are not merely visually pleasing but also deeply sentimental, rendering them appropriate for friends, family, and even colleagues. With Cyber Monday ushering in exclusive discounts and special deals, it becomes the perfect occasion to acquire these personalized keepsakes without straining one's budget.
Personalized posters are enduring tokens that will grace walls for years to come, preserving the vibrancy of cherished memories. Seize this Cyber Monday opportunity to establish indelible memories by gifting personalized posters to all those on the list. This thoughtful gesture is sure to leave an indelible mark on the hearts of loved ones.
This Cyber Monday, seize the moment to astonish your cherished ones with a gift that transcends the ordinary. Our personalized posters serve as a canvas for your treasured moments, transforming them into timeless masterpieces. Infuse the Christmas spirit with a personalized flourish that is bound to make an enduring impact.
Take a moment to explore our website and discover the enchantment of personalized gift-giving. Create memories that will be treasured for all time with Sandjest. Be sure not to overlook our exclusive Cyber Monday offerings. Embrace the delight of giving and make this season exceptionally memorable.
Elevate Your Gifting Game with Personalized Acrylic Plaques
Discover the ideal gift for Cyber Monday with a special focus on elevating one's gifting expertise. Delve into the realm of personalized acrylic plaques, a one-of-a-kind and timeless gift that is bound to leave an enduring mark on anyone on the recipient list.
These exquisite plaques exude sophistication and personalization, rendering them a perfect choice for commemorating significant moments or celebrating achievements. Forged from top-tier acrylic, these plaques serve as a robust and elegant canvas for one's heartfelt sentiments.
What truly distinguishes personalized acrylic plaques is the opportunity to tailor them with names, dates, or heartfelt messages. Don't let the chance slip away to astonish your loved ones this Cyber Monday. Elevate your gifting prowess with personalized acrylic plaques and craft memories that will endure for a lifetime.
Discover the Ultimate Cyber Monday Sale for Personalized Blankets
Discover the Unmissable Cyber Monday Sale for Personalized Blankets, a heartwarming gift option that caters to a diverse range of recipients. Cyber Monday, the digital shopping extravaganza, offers the perfect opportunity to discover something truly special for everyone on your gift list. Personalized blankets stand out as a versatile choice, making them ideal for family members, friends, or even colleagues.
What sets these blankets apart is the personal touch they provide. These warm and customizable blankets can be uniquely tailored to individual preferences. Whether it's adding names, meaningful dates, or heartfelt messages, you can effortlessly transform an ordinary blanket into a cherished keepsake.
In today's age of online shopping, the convenience of Cyber Monday ensures that you can find the perfect blanket without leaving the comfort of your home. It's an excellent chance to secure a thoughtful gift without straining your budget.
Whether you're searching for a birthday, anniversary, or holiday gift, a personalized blanket remains a timeless choice that is sure to warm the hearts of those who receive it. Do not miss out on the Unmissable Cyber Monday Sale for Personalized Blankets – it's a remarkable and considerate gesture for your loved ones. Prepare to embrace the best deals and make this Cyber Monday an unforgettable experience with these personalized treasures.
As the Cyber Monday festivities draw to a close, you're cordially invited to keep the spirit of love and warmth alive this holiday season with Sandjest's exceptional range of personalized gifts. Embrace the pleasure of giving and transform your moments into lasting memories. Make sure you seize this wonderful opportunity to craft treasured experiences with Sandjest.
Personalized Can Cooler for Any Occasions
Imagine the joy your loved ones will experience when they receive a can cooler adorned with their name, a meaningful date, or a special message. This customizable touch elevates the utility of this gift, making it suitable for any occasion, from birthdays to weddings, and everything in between.
These stylish can coolers offer more than just good looks; they are exceptionally practical as well. Crafted from premium materials, they excel at keeping beverages refreshingly cool, guaranteeing that every sip remains just as delightful as the first. Whether the recipient is a beer aficionado or a devoted soda lover, this considerate gift is sure to become their favorite accessory.
Don't let the Cyber Monday sales slip through your fingers, especially with everyone on your gift list in mind. Secure this personalized can cooler today, and bestow the gift of chilled beverages and treasured memories. Your kind gesture will linger in the recipient's memory long after the Cyber Monday shopping frenzy has passed.
Discover Personalized Frosted Beer Glass Deals
On this Cyber Monday, individuals can explore an ideal gift for beer enthusiasts: the Personalized Frosted Beer Glass. This meticulously crafted beer glass not only enhances the drinking experience but also seamlessly combines style and customization, making it a thoughtful choice for anyone on your shopping list.
The Personalized Frosted Beer Glass exudes an air of sophistication, thanks to its frosted finish, adding a touch of elegance to every sip. Its generous 16-ounce capacity ensures that your loved ones can savor their favorite brews to the fullest. What sets this gift apart is the ability to personalize it with a name, date, or a meaningful message. This personalization transforms an ordinary glass into a cherished memento, making it the perfect choice for family, friends, or colleagues.
At Sandjest, our mission revolves around redefining the act of gift-giving. It goes far beyond a mere formality; it's a channel to express deep emotions and treasured moments. Sandjest has always been resolute in the dedication to delivering extraordinary personalized gifts, ensuring an unforgettable and genuinely heartfelt gifting experience.
This holiday season, seize the opportunity to elevate the festivities with Sandjest's Cyber Monday Sale. Delve into the exquisite Personalized Frosted Beer collection and let your gift-giving break free from convention. Join them in embracing the essence of the season, and together, let's spread joy, one personalized gift at a time.
Personalized Mugs Is Cyber Monday Shoppers' Perfect Gift Choice
The personalized mugs we offer add a touch of individuality and warmth to each cup of coffee or tea. Whether the shopper is seeking a gift for a coffee enthusiast, a colleague, a close friend, or a cherished family member, these mugs can be tailored to match any taste or style. By adding a name, a heartfelt message, or a beloved quote, each mug becomes a cherished, one-of-a-kind keepsake.
These mugs don't just carry personal and sentimental value; they also bring practicality into the picture. Expertly crafted from top-notch materials, they are designed to endure, ensuring that your loved ones can savor their favorite beverages with a contented smile for years to come.
On this Cyber Monday, seize the opportunity to enjoy our exclusive deals and discounts on personalized mugs. Express your appreciation and affection with a gift that conveys profound sentiments. Be sure not to miss the chance to make this holiday season truly exceptional for everyone on your list. Opt for personalized mugs and bestow the gift of warmth, thoughtfulness, and a daily infusion of joy.
Choosing the Personalized Night Light for A Sweet Dreams
During Cyber Monday Sales, individuals have the perfect opportunity to discover meaningful gifts for everyone on their list, and one exceptional choice that truly shines is the Personalized Night Light. This enchanting offering seamlessly marries practicality with a personal touch, rendering it an exceptional option for family, friends, or cherished loved ones.
Far from being just a run-of-the-mill illumination source, the Personalized Night Light is, in fact, a bespoke work of art designed to illuminate any space beautifully. This exceptional gift empowers you to infuse it with a personal touch, be it through the inclusion of names, initials, or a heartfelt message, thereby crafting a lasting memory for the fortunate recipient.
This delightful night light is versatile, appealing to individuals of all ages, making it a truly flexible present for youngsters, adolescents, and adults alike. With its uniqueness and array of customization options, the Personalized Night Light guarantees to elicit joy in the recipient and effectively convey your care and affection. Transform this Cyber Monday into an unforgettable occasion by gifting a personalized, luminous surprise to your cherished ones.
At Sandjest, we believe in gifting as a language of the heart, far beyond mere formality. Our mission is to transform the act of gift-giving into a meaningful, memorable experience. Join us in making this holiday season truly special. Visit our website today and let your light shine bright with a personalized touch. Capture the essence of joy and warmth, and make every moment glow with Sandjest.
Make Every Space Your Own with Personalized Name Pillows
In the realm of Cyber Monday sales, finding the perfect gift for everyone on their list becomes a seamless task. An exceptional choice that truly stands out are the "Personalized Name Pillows." These distinctive pillows, tailored to individual preferences, effortlessly infuse a personal touch into any space. They serve as an impeccable gift option catering to a wide range of tastes.
Personalized Name Pillows transcend beyond mere comfort; they are thoughtful and heartfelt tokens, conveying a deep sense of care and affection. Those who receive them will undoubtedly value the time and effort dedicated to crafting a personalized gift exclusively for them.
Sandjest's Personalized Name Pillows personify the art of gifting, turning a simple gesture into a profound expression of love and affection. In alignment with Sandjest's visionary approach, every gift aspires to become a genuine reflection of your emotions, transcending the realm of mere formality. The commitment to crafting exceptional personalized gifts remains steadfast, with the aim of creating memories that will stand the test of time.
Do not miss out on this golden opportunity; grasp the moment to imbue these unique tokens of affection with the cozy spirit of the holiday season. Take action promptly, and guarantee that your presents create unforgettable memories in the hearts of your dear ones.
Discover Personalized Plant Pots in Our Cyber Monday Sale
Introducing the perfect gift option for Cyber Monday Sales: the Personalized Plant Pot. In a world saturated with uninspiring, run-of-the-mill presents, this exceptional and considerate choice truly distinguishes itself as a delightful option for anyone on your gift list.
Meticulously crafted, the Personalized Plant Pot is a versatile and heartwarming offering. Its customizability imparts a personal, heartfelt touch that propels it to a higher echelon. Picture presenting a flourishing, vibrant plant in a pot embellished with the recipient's name, a heartfelt message, or a significant date. It's a gesture that beautifully illustrates your care and thoughtfulness.
Whether your intended recipient is a friend with a green thumb, a colleague, or a beloved family member, this gift has universal appeal, catering to a diverse range of tastes and preferences. It encapsulates the essence of growth and nurturing, symbolizing enduring relationships.
This Cyber Monday, we invite you to embrace the spirit of gifting and give the gift of personalized memories. Each Personalized Plant Pot is a symbol of thoughtfulness, care, and love. Make this holiday season truly special by choosing Sandjest. Join us in making your gift-giving experience extraordinary. Shop now and create cherished memories with Sandjest.
Discover the Charm of Personalized Skinny Tumblers
The Personalized Skinny Tumbler stands out as a versatile and stylish gift, bound to bring joy to anyone gracing your holiday shopping list. With its sleek, 20-ounce stainless steel design, it caters to individuals who prioritize environmental consciousness while also possessing a discerning taste for elegance.
However, this tumbler transcends its role as a simple beverage container.It is a blank canvas for personalization, allowing you to tailor the gift by engraving the recipient's name, a heartfelt message, or even a monogram. This thoughtful customization adds a personal touch and ensures the recipient will never accidentally swap their tumbler with someone else's.
Whether they are a coffee connoisseur, fitness fanatic, or busy professional, this tumbler will meet their needs. It keeps drinks hot for up to 8 hours and cold for 12, while its slender profile easily fits in cup holders and bags – ideal for those constantly on the go.
This Cyber Monday is the perfect opportunity to give your loved ones something truly special. The Personalized Skinny Tumbler artfully combines style, function, and sentiment in one sleek package. Don't miss out on brightening someone's day with this eco-friendly and thoughtful gift.
Personalized Sweatshirts for a Personal Touch
Discover the ideal Cyber Monday present for your loved ones with personalized sweatshirts, adding a warm and personal touch that truly resonates. These customized, cozy garments make for a perfect choice, showcasing your thoughtfulness and making your recipients feel extraordinarily special.
The range of personalized sweatshirts spans various styles, colors, and designs, ensuring you can tailor them to match the unique preferences of the person receiving the gift. Whether it's their name, a significant date, or a cherished quote, adding a personal touch goes a long way in expressing your heartfelt sentiments.
Beyond being mere clothing, these sweatshirts transform into heartfelt tokens of affection that can be cherished for years. Their universal appeal makes them suitable for friends, family, or colleagues of all ages, making them an incredibly versatile and universally appreciated gift.
This Cyber Monday, seize the opportunity to benefit from exclusive sales and discounts as you invest in the gift of personalization. It's a chance to demonstrate your care and consideration in selecting their present, all while enjoying the fantastic savings that Cyber Monday offers. Don't miss out on the chance to create enduring memories with these personalized sweatshirts
At Sandjest, the philosophy revolves around the belief that gifts should transcend mere formalities, expressing profound emotions and sentiments. This is why the Personalized Sweatshirts offered by Sandjest stand out, as they provide a uniquely personal touch that is unparalleled.
Every piece is meticulously crafted and personally delivered, guaranteeing an unforgettable gift-giving experience. The core vision and values of Sandjest are firmly rooted in the creation of cherished and significant moments, made possible through exceptional, personalized gifts.
Conclusion
During this festive period, Sandjest, the brand committed to crafting unique and heartfelt presents, presents an exceptional chance to elevate one's gift-giving expertise. Sandjest's mission seamlessly aligns with the essence of customized presents, with the goal of surpassing mere formality and expressing profound sentiments. Our core belief revolves around the idea that every gift should narrate a heartfelt tale, motivating us to design personalized gifts that resonate with your deepest emotions and create lasting memories.
This Cyber Monday, we cordially invite you to join us in redefining the art of gift-giving. Explore our thoughtfully curated assortment of personally delivered, tailor-made gifts, painstakingly designed to warm hearts and spread holiday cheer. With Sandjest, you're not merely buying gifts; you're curating cherished moments and fostering deeper connections with your loved ones.
As you embark on your Cyber Monday shopping journey, remember that each creation from Sandjest is a testament to your consideration and affection. Elevate your gift-giving experience, making it more significant and unforgettable. Choose Sandjest, and together, let's transform this festive season into a time of heartfelt and joyous celebration.
Don't miss the opportunity to make this Christmas exceptionally special. Visit our website and uncover the magic of personalized gifting with Sandjest. Touch the hearts of your dear ones with gifts that will forever hold a special place in their cherished memories. And here's your exclusive Cyber Monday offer: Enjoy a 50% discount with the code WELCOME. Hurry up and visit Sandjest's website, this offer won't last long!
FAQs
How Can I Prepare for Cyber Monday Shopping?
To prepare for Cyber Monday shopping, start by creating a list of items you want to purchase. Research the stores and websites offering the best deals. Ensure your internet connection is stable and set up your accounts in advance to expedite the checkout process.
What Types of Gifts Are Usually on Sale During Cyber Monday?
Cyber Monday sales typically include a wide variety of products, such as electronics, clothing, beauty products, home decor, toys, and more. Many retailers offer discounts on popular gift items, making it an excellent time to buy holiday presents.
How Can I Ensure I Don't Overspend During Cyber Monday?
To avoid overspending, set a budget before Cyber Monday and stick to it. Prioritize your shopping list and focus on essential items. Avoid impulsive purchases and be mindful of your spending limits to make the most out of the sales.