Embrace Mystical Vibes with Witchcraft Tumblers at Sandjest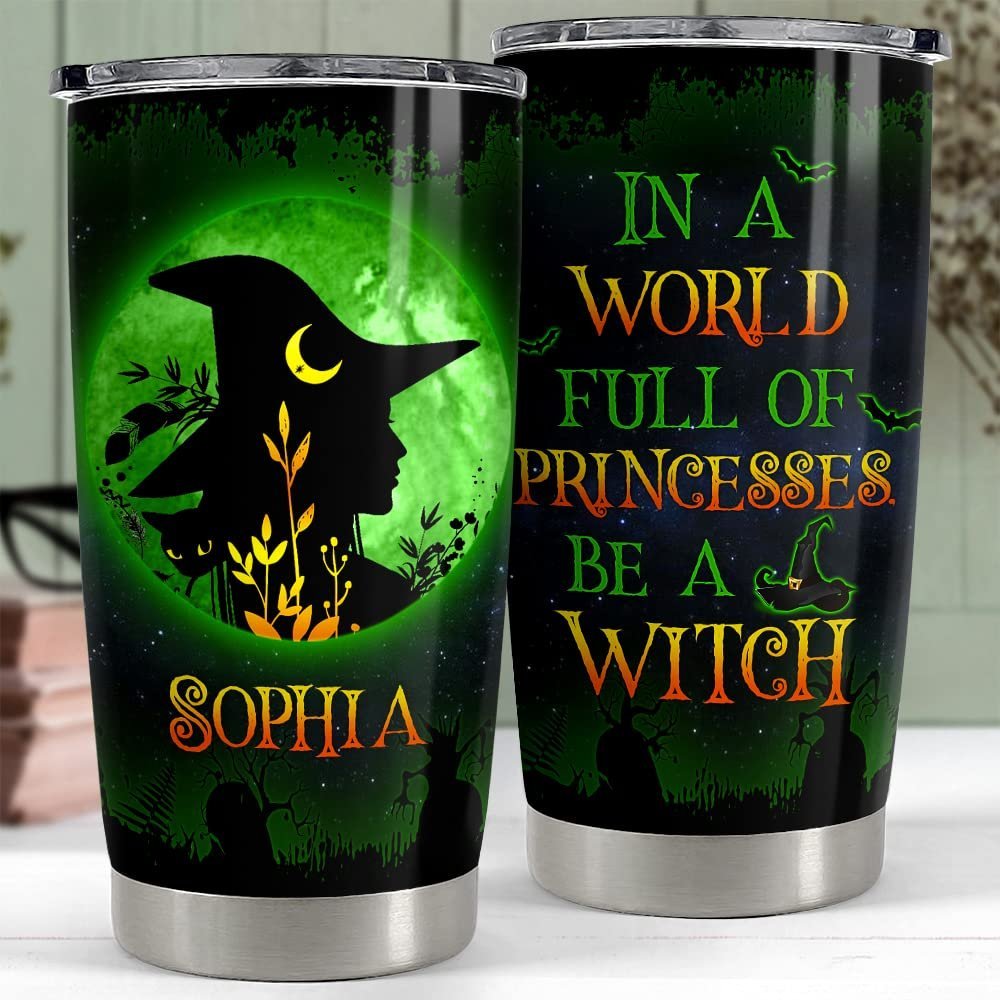 Welcome to Sandjest, where magic meets style in our captivating witchcraft tumbler. If you're drawn to the enchanting world of witchcraft, whether you identify as a witch or simply admire the mystical aesthetic, our collection of witchy-themed tumblers is here to add a touch of enchantment to your drinkware collection. Immerse yourself in the world of spells, potions, and hidden wonders, and let every sip become a magical experience.
Awaken Your Inner Witch: Witchcraft Tumblers for Every Spirit
Step into the enchanting world of witchcraft with Sandjest's captivating witch tumblers. We recognize the magnetic pull of witchcraft, drawing individuals closer to nature, mysticism, and self-exploration. Our carefully curated collection of witch tumblers is designed to encapsulate the very essence of magic, intuition, and the profound beauty of embracing your inner witch. Wheoffers a diverse array of options for every practitioner and enthusiast. Explore our personalized coffee tumbler options today and sip your spells in style.ther you're captivated by spellbinding designs that evoke the craft's enigmatic mysteries or seek empowerment through symbols resonating with the strength of witchy spirits, our collection
Witch Tumbler Ideas: Unveil Your Mystic Style
Our witch tumbler ideas are designed to celebrate the various aspects of witchcraft and the magic that surrounds it. From intricate patterns inspired by ancient symbols to enchanting designs that pay homage to the elements, each tumbler tells a story of connection and empowerment. Whether you're seeking a personalized tumbler with lid and straw for yourself or a kindred spirit, our collection has something truly special to offer.
Embrace Your Inner Witch: Witchy Tumbler Cup
Our witchy tumbler cup collection combines style and mystique, creating a perfect accessory for your daily rituals. These tumblers not only showcase the essence of witchcraft but also offer a practical solution for staying hydrated on your magical journey. Whether you're casting spells, reading tarot cards, or simply enjoying a moment of tranquility, the witchy tumbler cup adds a touch of mysticism to your moments.
Basic Witch Tumbler: Celebrate Simplicity and Spirit
For those who resonate with the "basic witch" phrase, our Basic Witch Tumbler is a delightful choice. This tumbler captures the spirit of modern witchcraft with a touch of humor and self-acceptance. Whether you're a seasoned practitioner or simply someone who loves the mystical aesthetic, the Basic Witch Tumbler is a lighthearted and stylish way to embrace your witchy vibes.
Witch Tumbler with Straw: Sip Magic with Style
Our witch tumbler with straw offers a seamless blend of functionality and style. Sip your favorite beverages with ease while basking in the magical aura that surrounds you. Whether you're brewing herbal teas, crafting potions, or simply enjoying your daily refreshment, the witch tumbler with straw adds an element of enchantment to your every sip.
Explore Sandjest's Witchcraft Tumbler Collection Today
Sandjest invites you to explore our captivating collection of witchcraft tumblers, each thoughtfully designed to capture the mystique, empowerment, and allure of the craft. Whether you're a dedicated practitioner, a lover of magical aesthetics, or someone who admires the beauty of hidden realms, our tumblers offer a unique and stylish way to showcase your connection to the mystical world. Elevate your drinkware collection with a witchcraft tumbler from Sandjest and let every sip be a reminder of the enchanting possibilities that surround you.