Embrace Norse Heritage with Viking Tumbler at Sandjest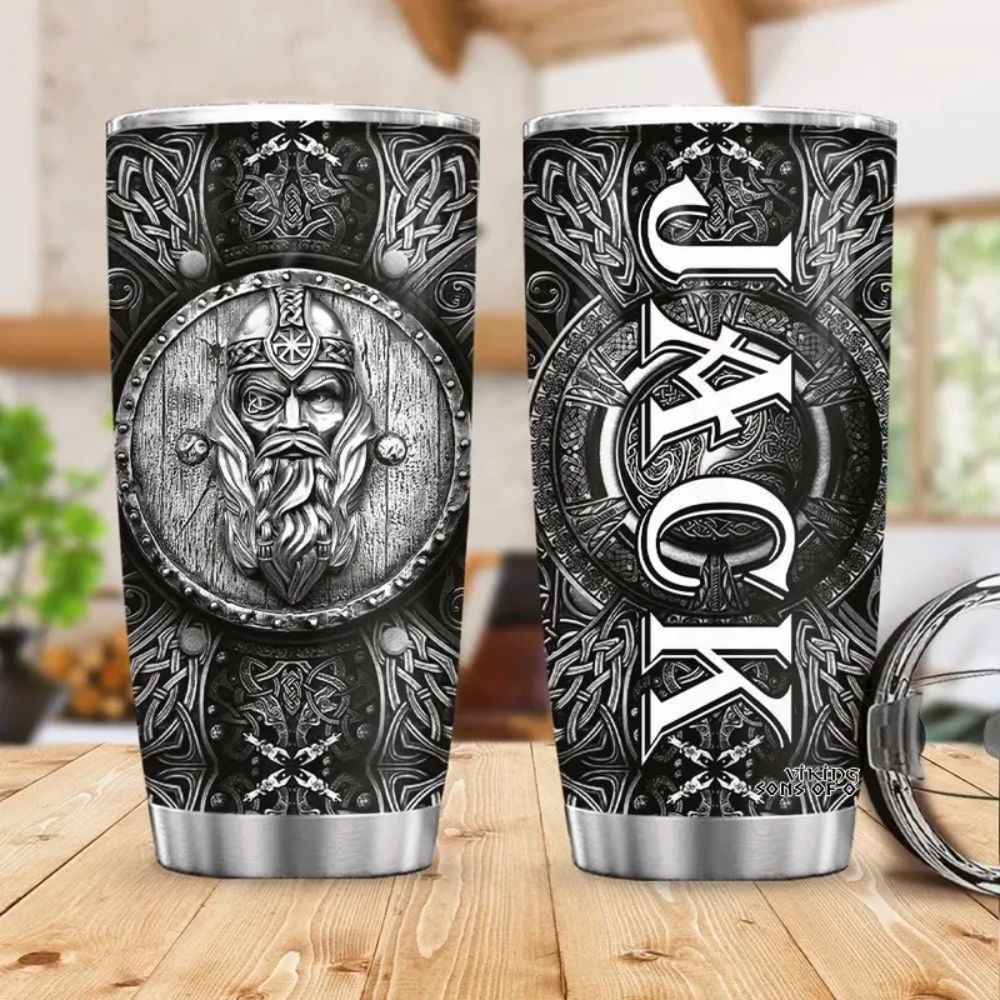 Through our great variety of Viking tumbler, get ready to set out on a voyage into the amazing realm of Viking heritage and culture. Our selection of Viking-themed tumblers is here to add something special to your collection of drinkware, whether you're a history enthusiast enthralled by the brave past of the Vikings or you simply respect the power they represent. Why not plunge in, sip by sip, and let the heroic Norse myths and the spirit of the warrior join you with each exquisite drink? Join us as we delve into inspiring personalized tumbler cup designs today.
Discover the Majesty Vikings Tumblers for Every Enthusiast
Here at Sandjest, we truly grasp the fascination that Viking history holds and how it has woven into modern culture. That's why we've carefully crafted our Vikings tumbler collection to encapsulate the very heart of Norse warriors and their epic narratives. Whether it's the recognizable Viking symbols or the meticulous designs inspired by age-old artifacts, our assortment presents a wide range of choices, catering to every devoted Viking admirer out there.
Express Your Warrior Spirit with Custom Viking Tumblers
Make your personalized tumbler vikings as unique as your appreciation for Norse heritage with our custom options. Add your name, initials, or a meaningful phrase to create a personalized tumbler that reflects your warrior spirit. Whether you're a dedicated Viking enthusiast or looking for a distinctive gift, our custom Viking tumblers offer a stylish and meaningful way to showcase your connection to this ancient culture.
Vikings Coffee Tumbler to Elevate Your Coffee Rituals
Calling all coffee aficionados and Viking enthusiasts – it's time to come together and embrace our Vikings coffee tumbler. Engineered to maintain the warmth of your coffee and keep your enthusiasm soaring, this tumbler is your perfect companion for that energizing morning cup or for enjoying your preferred drink during all your escapades. Boasting an eye-catching Viking design and functional attributes, the Vikings coffee tumbler emerges as an empowering addition to your everyday routines.
Viking Stainless Steel Tumbler: Your Strength, Your Tumbler
Introducing our incredible Viking stainless steel tumbler lineup! This collection pays homage to the unwavering might and courage of Viking warriors. Created using top-notch stainless steel, these tumblers are designed to take on whatever today's world throws your way, all while celebrating the unbreakable Viking spirit. Whether you're someone who loves history or you just admire that warrior mindset, the Viking stainless steel tumbler is here to be your trusty, long-lasting, and oh-so-stylish companion!
Personalized Tumbler Vikings to Carry Legends with You
Step into the world of the personalized Vikings edition tumbler – a wonderful means to keep the spirit and stories of the Norse folk close, no matter where you wander. Infuse your tumbler with a touch of your own, be it a name, a cherished quote, or a symbol that holds deep meaning. As you take each sip, you forge a bridge to history, rejoicing in the everlasting heritage of the Vikings.
Explore Sandjest's Unique Vikings Tumbler Collection 
Sandjest invites you to explore our captivating collection of Vikings tumblers, each thoughtfully designed to capture the strength, history, and spirit of these legendary warriors. Whether you're a devoted Viking enthusiast, a coffee lover, or someone who admires the warrior ethos, our tumblers offer a unique and stylish way to showcase your passion. Elevate your drinkware collection with a Viking tumbler from Sandjest and let the warrior spirit of the Norse people enhance your everyday journey.