Remember The Moment Miscarriage Christmas Ornament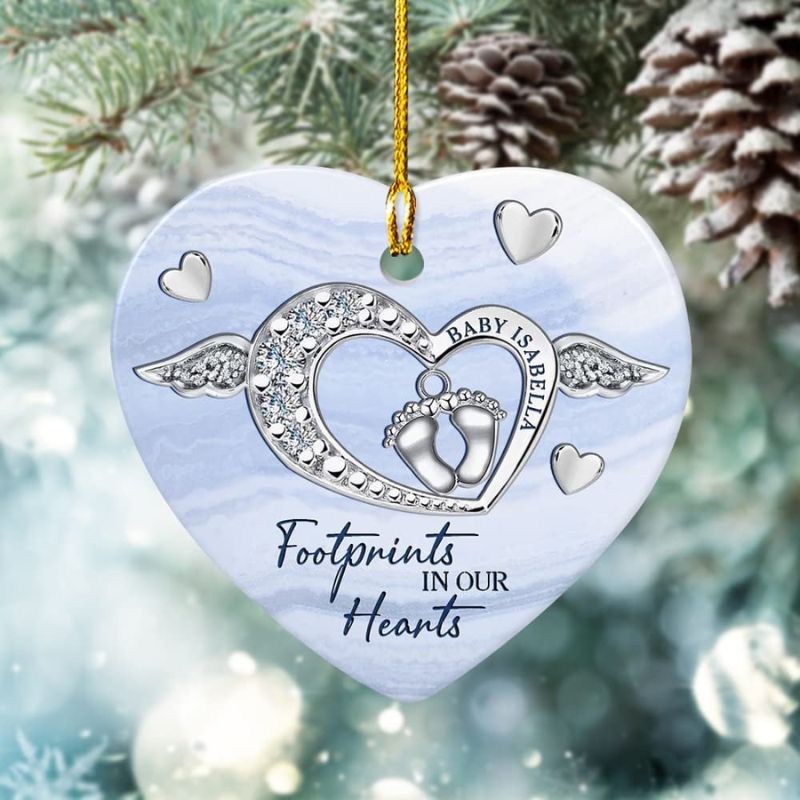 Miscarriage christmas ornament – a heartfelt way to honor the little ones who hold a special place in our hearts. This lovingly crafted pregnancy loss ornament is designed to cherish the memory of those precious babies we lost too soon. With its delicate and meaningful design, it's a beautiful addition to your holiday decorations, serving as a gentle reminder of the love that continues to shine brightly. Let's come together to remember the moment and keep their memories alive in our hearts. 
What is a miscarriage Christmas ornament?
A christmas ornament for loss of mother is a special type of ornament designed to honor and remember a pregnancy loss, specifically a miscarriage, during the holiday season. These ornaments are often created with sensitivity and care to provide comfort and support to those who have experienced such a loss.
The lost loved one christmas ornament may feature symbols or messages that represent love, remembrance, and healing. Some miscarriage memory ornament ideas might include angel wings, hearts, or other meaningful symbols. They can be personalized with names, dates, or special messages, allowing families to create a personalized memorial to honor the baby they lost.
Are there different types of miscarriage memorial christmas ornaments?
There are different types of christmas ornaments for passed loved ones available, each designed to provide comfort and remembrance to those who have experienced the loss of a pregnancy. These ornaments come in various styles and designs, allowing individuals and families to choose the one that resonates most with their feelings and emotions. Some common types include:
Angel wings: Ornaments featuring angel wings symbolize the baby's angelic presence and serve as a reminder that their spirit is watching over their loved ones.

Heartfelt messages: Some

rest in peace ornaments

may have heartfelt messages or poems that express love and remembrance for the baby who was lost.

Personalized keepsakes: Many miscarriage memorial ornaments can be personalized with the baby's name, birth date, or other meaningful details, creating a unique and cherished keepsake.

Pregnancy loss symbols: The

miscarriage christmas ornament

may incorporate symbols like butterflies, doves, or forget-me-not flowers, representing hope, peace, and everlasting love.
Where can I find a miscarriage ornament?
Sandjest is your compassionate and understanding destination for finding a meaningful miscarriage christmas ornament. We understand the importance of remembering and honoring the little ones who left our lives too soon. In our thoughtfully curated collection, you'll discover christmas ornaments for parents designed to provide comfort and solace during the holiday season. 
Each ornament is carefully crafted with symbols of love, hope, and remembrance, allowing you to create a cherished keepsake that honors your baby's memory. At Sandjest, we are here to support you on your journey of healing and remembrance. Find the perfect sleep in heavenly peace ornament to hold close to your heart this Christmas and keep the spirit of your precious one alive forever.
What faqs about miscarriage christmas ornament?
What are some common symbols used in these miscarriage ornaments?
Christmas ornaments for deceased loved ones often incorporate symbols that hold deep significance and meaning for those who have experienced pregnancy loss. Some common symbols used in these ornaments include butterflies, doves, rainbows, stars, footprints, etc…
Can I personalize a christmas ornament for miscarriage?
Yes, you can personalize a miscarriage christmas ornament to honor and remember a miscarriage. Sandjest allows you to customize ornaments with names, dates, or special messages, allowing you to create a unique and meaningful memorial for your baby.
Are there alternative ways to memorialize a miscarriage?
Alternative ways to memorialize a miscarriage include creating a memorial garden, writing letters or journaling, donating to charities, naming the baby, seeking support, creating memorial books, and participating in memorial events. Each person can find comfort in different ways and should choose methods that resonate with them during their healing journey.
Conclusion
A miscarriage ornament holds deep sentimental value, serving as a poignant tribute to the cherished little ones who departed too early. This custom ornament adds a unique and tender touch to your festive adornments, offering solace and rejuvenation throughout the holiday season. Let Sandjest help you commemorate this significant moment, ensuring the enduring presence of their precious spirits within our hearts, while also fostering love and empathy amongst us all.