Personalized Hockey Christmas Ornament Gifts For Sport Lovers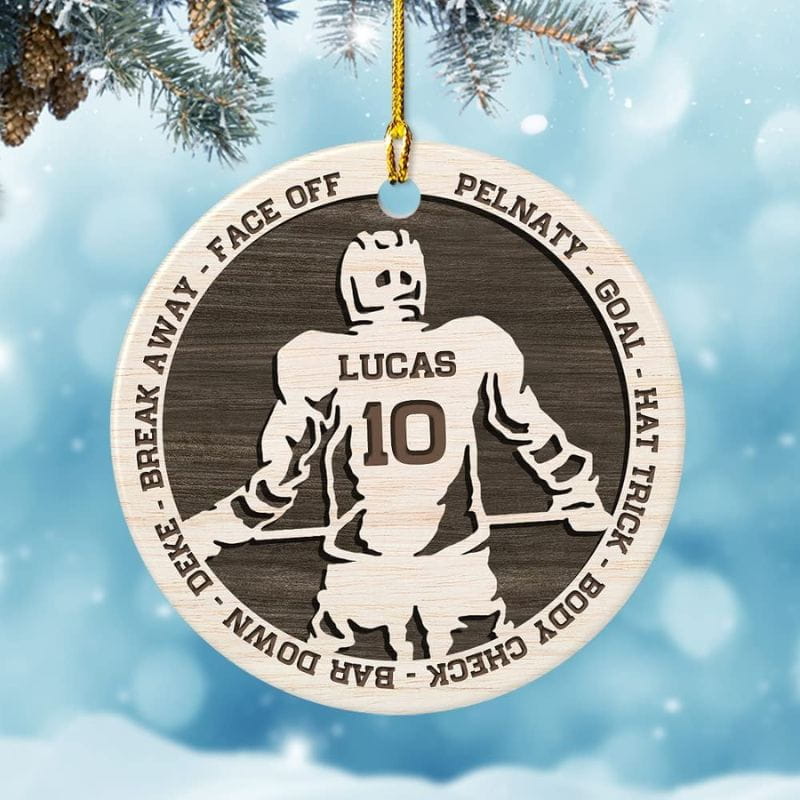 Xmas is the perfect time to celebrate our passions and create lasting memories with loved ones. For hockey enthusiasts, there's no better way to bring the spirit of the game to the festivities than with a personalized hockey christmas ornament. These unique decorations not only add a special touch to the holiday decor but also allow us to honor our favorite players or teams in a heartwarming and personalized way. 
Can I personalize a hockey Christmas ornament with a player's name or team number?
You definitely can typically personalize a hockey player ornament with a player's name or team number. Sandjest offers personalized ornaments where you can add custom text, such as names, numbers, or short messages, to make the ornament more meaningful and unique to the recipient.
When selecting an ice hockey ornament for personalization, look for one that specifically offers customization options. You may find ornaments that have a designated space for adding a player's name or team number, or you might be able to request these details to be included during the ordering process.
What materials are commonly used for hockey Christmas ornaments?
Hockey christmas decorations come in a variety of materials, each offering different aesthetics and characteristics. Some of the most commonly used materials for hockey-themed ornaments include:
Resin

: Resin

hockey christmas ornament

can be molded into various shapes, such as hockey players in action or hockey equipment like pucks and sticks.

Wood

: Wooden hockey ornaments have a rustic and natural charm. They can be carved or laser-cut to create hockey-related shapes and designs.

Metal

: Metal

christmas hockey jersey

ornaments, often made of materials like stainless steel or pewter, offer a durable and classic look. 

Acrylic

: They are lightweight and shatter-resistant and can be printed with hockey-related designs, logos, or player names.
Are there different themes available for personalized hockey ornaments?
There are various themes available for hockey christmas ornament at Sandjest, catering to different interests and preferences within the hockey community. Whether you're a player, a fan, a coach, or simply a hockey enthusiast, you can find a personalized ornament that resonates with your passion for the sport. They are a wonderful way to showcase your love for the sport and create lasting memories during the holiday season.
Are there any custom hockey ornaments that include a mini hockey stick or puck in the design?
These custom hockey sports themed christmas ornaments with mini hockey sticks or pucks are not only delightful decorations for your own holiday tree but also make thoughtful and unique hockey christmas gifts for players, coaches, fans, or anyone who loves the sport. The mini hockey stick or puck is often incorporated into the ornament's overall design and can add a three-dimensional element that stands out on the Christmas tree.
What are FAQs about hockey christmas ornament?
Where can I buy personalized hockey player ornament online?
If you're looking for the perfect way to celebrate your love for the sport this holiday season, look no further than Sandjest. We have a fantastic selection of outdoor hockey christmas decorations, designed to capture the excitement and spirit of the game. From detailed figurines to carefully crafted designs, our ornaments are built to stand the test of time.
Can I pre-order my hockey Christmas decorations and have them delivered later?
Sandjest offers the convenience of pre-ordering your hockey christmas ornament and having them delivered at a later date, just in time to celebrate the holiday season. With this option, you can secure your favorite hockey xmas ornaments early, ensuring they'll be ready to bring the spirit of the game to your festive decor when the time comes.
Do they offer bulk discounts for purchasing multiple hockey player christmas ornaments as gifts for a team or hockey fans?
Sandjest is delighted to offer bulk discounts for purchasing multiple hockey team ornaments as gifts for a team or hockey fans. We understand the joy of celebrating the sport of hockey and want to make it easier for you to spread that joy among your fellow fans, players, or coaches. By buying in bulk, you not only secure unique and personalized gifts for your recipients but also enjoy the benefit of discounted pricing.
Conclusion
In conclusion, this holiday season is the perfect time to commemorate your passion for hockey and the happiness it adds to your life through hockey ornaments. Whether you're paying tribute to your beloved player, proudly displaying your team's number, or presenting a meaningful gift to a fellow hockey enthusiast, these custom Christmas ornaments truly encapsulate the essence of the sport. As you come together with your loved ones around the Christmas tree, allow these ornaments to serve as a poignant reminder of cherished memories, your unwavering enthusiasm for hockey, and the festive spirit of Christmas.