Honoring Firefighter Service with Firefighter Mugs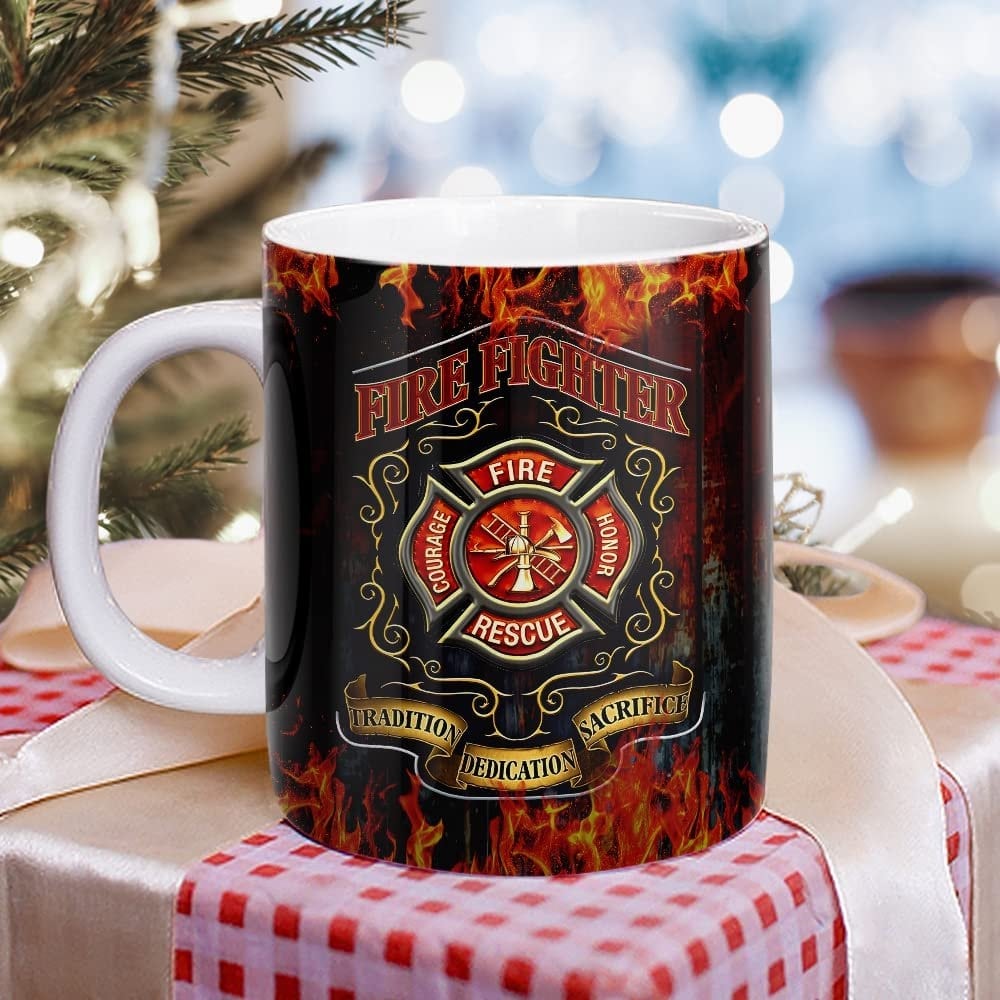 Welcome to Sandjest, where we proudly present a diverse array of firefighter coffee mugs designed to pay homage to the courageous individuals who wholeheartedly dedicate themselves to our communities' safety. A personalized coffee mug, brimming with gratitude, stands as a heartfelt gesture to appreciate their unwavering commitment. Our collection features imaginative designs tailored for active duty firefighters, seasoned veterans, trainees, and even those who hold a fiery passion for all things firefighting.
Top Unique Firefighter Coffee Mugs
Introducing our splendid assortment of coffee mugs specially designed for firefighters – a treasure trove of styles that perfectly match every firefighter's unique personality. Take your pick from mugs adorned with weathered flags, the revered Maltese cross, symbolic fire axes, and trusty helmets. Alternatively, delight in Dalmatians, fire trucks, or the iconic thin red line flag.
For an extra touch of sentiment, our personalized firefighter coffee mugs let you infuse their name, station number, or years of dedicated service. And if laughter is the order of the day, we've got amusing firefighter gift mugs complete with playful phrases and graphics that'll bring a smile to anyone's face.
Personalized Firefighter Mugs Radiate Appreciation
For a thoughtful firefighter gift, choose one of our personalized firefighter mugs. These customizable mugs allow you to add the recipient's name, photo, badge number, or text of your choice. Most can include multiple lines of text for special messages.
Some of our best-selling personalized options include:
Photo firefighter mugs featuring their face above a firefighter graphic

Custom name and title firefighter mugs like "Captain John Smith"

Individualized station number mugs with phrases like "Serving Since 20xx"
With these customized mugs, you can create heartfelt gifts tailored specifically for your favorite firefighter.
Best Firefighter Coffee Mug Gifts
When you want to gift the best firefighter coffee mug available, check out our premium styles. Options include:
Heavy-duty stainless steel mugs perfect for the station house

Ceramic mugs with rich finishes and vibrant colors

Handcrafted pottery mugs with artistic details

Glass mugs that show off etched designs

Insulated travel mugs for on-the-go
For outstanding quality that withstands daily use, our premium firefighter mugs are perfect.
Durable Ceramic Firefighter Travel Mugs
Catering to the on-the-go firefighter, our ceramic firefighter travel mugs ensure coffee's always by their side. These mugs come equipped with:
Leak-proof lids for mess-free travels

Ceramic build for superior heat preservation

Sleek design to fit snugly in cup holders

Sturdy non-slip bases for added steadiness
Select from vivid glossy hues or stylish two-tone designs. For an extra touch of sentiment, personalize with their name or a heartfelt message, creating a custom gift that'll become their daily favorite.
Budget-Friendly Firefighter Mug Gifts
In search of an affordable firefighter mug gift? Take a peek at our range of budget-friendly firefighter coffee mugs. These gems boast:
Engaging firefighter designs and witty sayings

Resilient stoneware or ceramic craftsmanship

Safe for microwaves and dishwashers

Generous 11-15oz sizes
Even with their pocket-friendly prices, these mugs don't compromise on style or practicality. Uncover the ideal means to honor your cherished firefighter with a personalized mug from Sandjest – a heartfelt touch that's both thoughtful and affordable!